Testimonials
Everything I've purchased from LM is high quality. Be it leather goods, guitar straps, even t-shirts, the fit and finish is always top notch.

Derek J.
Buying from LM reminds me of when you could buy all your goods made in the USA, and of impeccable quality.

Jay L.
I received this bag for Christmas and it's a perfect work bag for me! It's stylish, yet very useable. I couldn't be happier! The leather quality is truly unmatched.

K.G.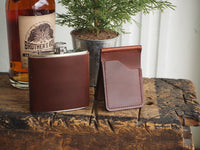 The Leather Man's Gift Box
Take your choice of a wallet and a leather-wrapped flask or camp mug. Either way, he's gonna be sippin' and grinnin' this Christmas
Let's See It.
The Best Thin Leather Wallet
We set out to make a truly new and unique wallet that will give you room for cash, cards, and stay slim --- all while actually using really, really nice leather.  Mission accomplished? Read the reviews and see!
See The Thompson Wallet